About Foley Cross Country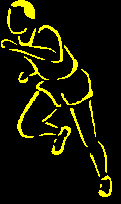 1997 Cross Country(Inaugural Season)
Foley once had a cross country program, very long ago. Infact there wasn't one since the fall of 1981. But that all changed in the fall of '97. We restarted our team, mainly made up of our track atheletes. Coached by Joe Hosang(Class of '85), our distance coach, we had a very successful first season. Our guys team had a 3-3 league record and our girls team, led by freshman Nicole Breger who was regional champ, were sectional champs(6-0).Nicole, who is an All-State soccer player, came to Bishop Foley for soccer(we've been girls state champs in soccer about 8 times over the past decade) instead of going to Sterling Heights Stevenson, who have an excellent Cross Country program.
1998 Cross Country
In '99 our girls team continued their sucess with an undefeated league record. Nicole Breger built of last years sucess earning more recognition than I can list here (check the awards section) including being only 5 seconds off the course record at the state finals. Our boys team would have done much better this year if we would have been able to feild five runners every meet but that wasn't so. We did however get a solid trio of Freshmen and Terry Monette who will all be returning and have much potential.
1999 Cross Country
Likely roster for 1999 excluding class of 2003(*=returning runner)

Coaches
Andrew Groth, Head Coach('84)
Ann Dzooroogian, Asst. Coach('94)
Matt Duane, Asst. Coach('99)

Guys                          Girls
Terry Monette-2000 *          Jenny Finn-2000
Jeff Maki-2001                Angela Krolikowski-2000 *
Justin Bell-2002              Katie Topalian-2000 *
Ben Duane-2002 *              Nicole Breger-2001 *
Kris Fermil-2002              Eva Murphy-2002 *
Steve Mance-2002 *            
Bill Salmonowicz-2002          
Parker Turczyn-2002 *          
Steve Znoy-2002
Course
Information coming soon.


Index| '98 XC Awards | '98 XC Roster | '98 XC Schedule | '98 XC Pictures
'98 Boys' All Area Team | '98 Girls' All Area Team | About Foley XC | '97 XC Roster
'97 Girls XC Results| '97 Boys XC Results